Dear friends,
Are you on Nostr yet?
Nostr stands for Notes and Other Stuff Transmitted by Relays, an open internet communication protocol. No platform can ban or censor it. The users are in complete control of their data and speech. No thought police here.
Edward Snowden explains it wonderfully:
If a platform is a silo, a protocol is a river: no one owns it, and everyone is free to swim.
Nostr is encrypted, and there's no registration required. Messages are distributed via decentralized relays, so there are no single points of failure. It's also effortless to pay and earn sats with Bitcoin Lightning Network integration.
The easiest way to start is by downloading Damus on mobile or trying out Iris in a web browser. For more information, here is an easy guide:
This is our Nostr public key:
npub1v5jycyudhv64tm4q66vjeqcvxrpgk6u507xypt44cc55ghyh7mqq42suxz
Please copy and paste it into the search bar of your favorite Nostr client to give us a follow or send us a message.
And now, let's turn our attention to the weekly bitcoin chart.
📉 The weekly bitcoin chart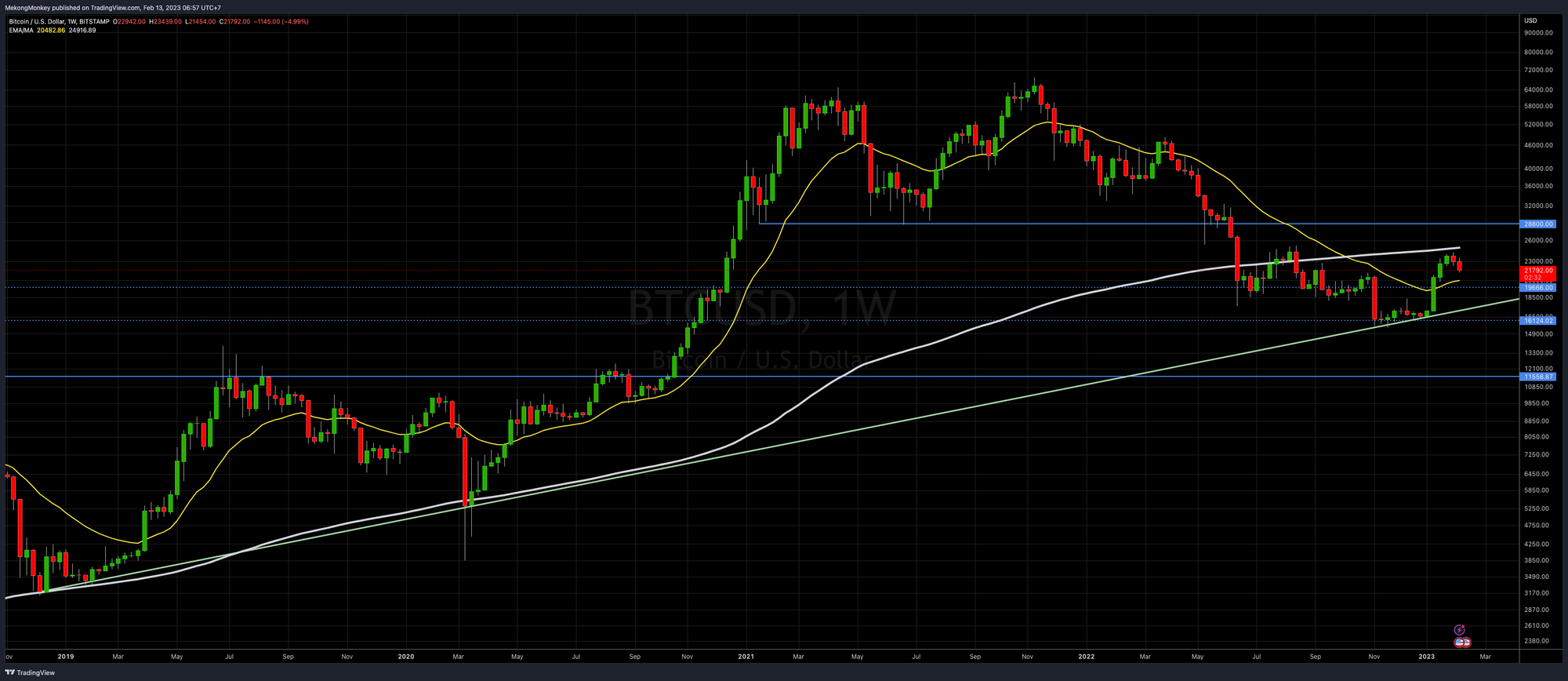 Here's our weekly bitcoin chart with all the usual indicators: the significant Horizontal Support Resistance levels (HSR) in blue, the bullish trend line in green, the 21-week Exponential Moving Average (21 EMA) in yellow, and the 200-week Simple Moving Average (200 SMA) in white.
As we can see, bitcoin had another red week. The weekly candle opened just below $23K and closed the week below $22K. This pullback was expected, with the 200 SMA looming above as a key resistance area.
When we zoom in, it looks like this:

Here we added another HSR level in purple, around $21K, where the price was forcefully rejected in early November (due to the FTX collapse). Bitcoin has traded above this level for the past four weeks. Now it will likely act as support.
The Relative Strength Index (RSI, in blue) is coming down slightly but still above the midpoint (white horizontal) and above its EMA:

The Stochastic Oscillator is still wide and up but entering overbought territory:

This might suggest some cooling off, as dipping lower or sideways consolidation is in order.
🔮 To bring it all together:
Bitcoin is still comfortably hanging out above $20K. The greatest challenge on the chart remains the weekly 200 SMA around $25K. The bulls can run free if bitcoin can close a weekly candle above this level. However, we are not there yet, and the way the chart is shaping up, it looks unlikely we will get there this week.
Sideways and down is the most likely path forward until we find some decent support to push the price back up. The combination of the $21K HSR level with the 21-week EMA right below it (around $20.6K) is a likely area to end the dip. If that fails, there's the $20K HSR under it. We believe it's unlikely we'll lose $20K. However, it's technically possible to go down to $17.4K to test the bullish trend line before attempting to break the 200 SMA again.
All in all, this is not a good time for risk-taking. It's a far better strategy to wait and see where this dip bottoms out instead of trying to guess how low we will go. On the other hand, as long as the price remains below the 200-week SMA, it's an excellent time for humble sat stackers to increase their holdings at a discounted rate.
---
🪦 The end of an era
LocalBitcoins, the original bitcoin peer-to-peer exchange, is closing up shop. The trading platform had become a shadow of its former self in the last couple of years. Cash transactions were no longer allowed, and stringent KYC regulations made it virtually impossible to hold on to a LocalBitcoins account for residents of Cambodia.
In the early days, however, LocalBitcoins was a great place to buy and sell bitcoin. We have many fond memories of all the people we met and traded with over the years. Here's a screenshot of our old LocalBitcoins account before it disappears forever: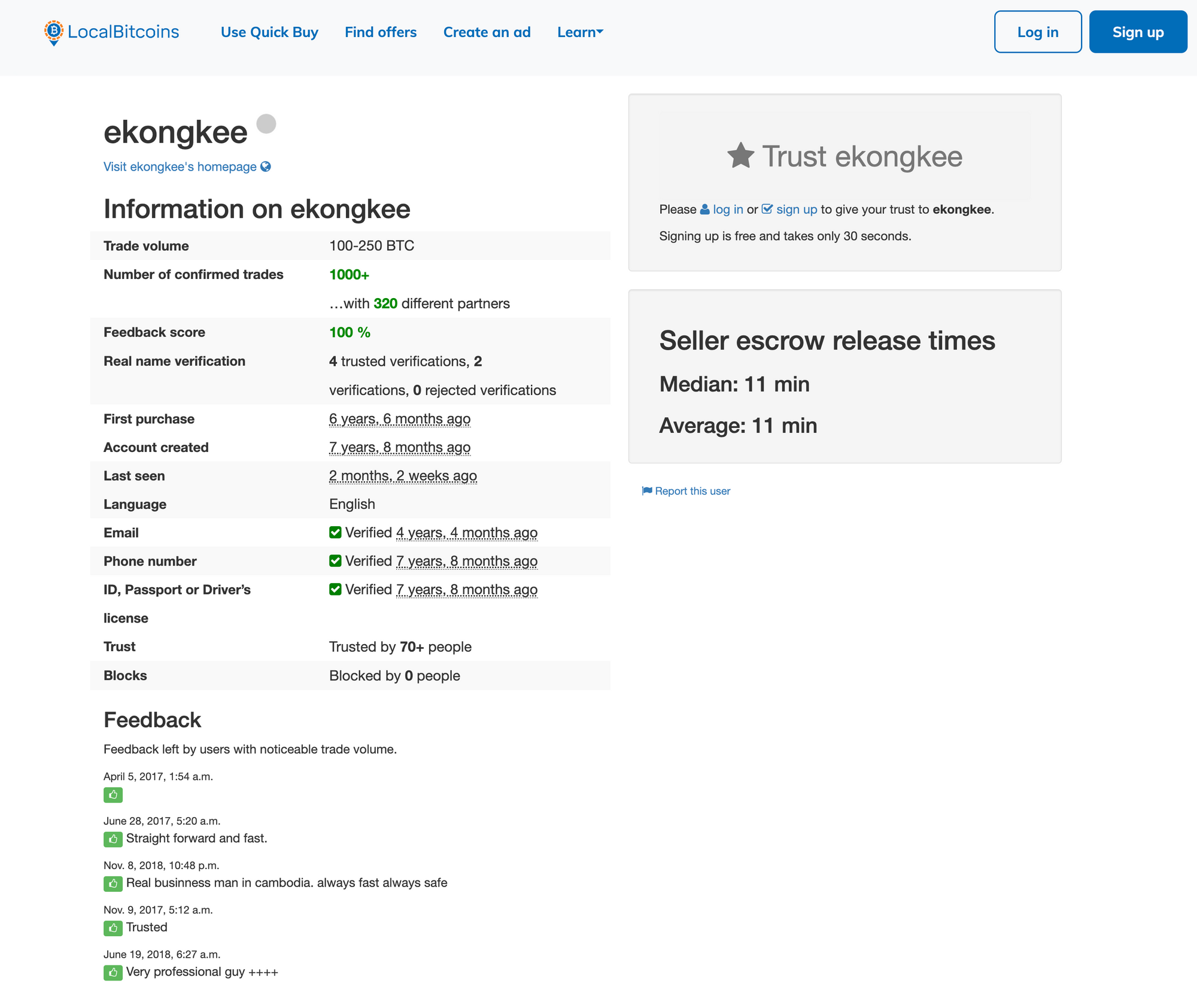 ---
Have a wonderful week, dear friends; take good care of yourself and your loved ones. You can reach us on Twitter, Telegram, or e-mail if you have any comments, questions, or suggestions.
Don't forget to join us on Nostr: npub1v5jycyudhv64tm4q66vjeqcvxrpgk6u507xypt44cc55ghyh7mqq42suxz
Download Damus on mobile or try Iris in your web browser.
Greetings from Phnom Penh, and talk again soon!
Support The Weekly Close by using these excellent services:
HodlHodl: buy and sell bitcoin peer-to-peer without counterparty risk.
Rollbit: up to 1000X bitcoin leverage futures. Instant execution. 0% Slippage. 0% Fees on loss.
Satsback: earn sats when shopping online.
We appreciate your support! ⚡mekongmonkey@getalby.com
---
Not trading advice. You are solely responsible for your actions and decisions.